"Billion Dollar Roundtable"
Now Includes LGBT, Disability, and Veteran-Owned Businesses in Corporate Supply Chains
August 17, 2017
Washington, DC – The National Gay & Lesbian Chamber of Commerce (NGLCC), the business voice of the LGBT community, and the USBLN (U.S. Business Leadership Network), the disability inclusion business resource, are pleased to share that the Billion Dollar Roundtable (BDR) voted to expand the criteria in evaluating a corporation's billion dollar supply chain spend on diverse-owned businesses to include: certified LGBT Business Enterprises (LGBTBEs), Disability-Owned Business Enterprises (DOBEs®), Service-Disabled Veteran Disability-Owned Business Enterprises (SDV-DOBETM), and Veteran-Disability Owned Business Enterprises (V-DOBEsTM).
"The inclusion of LGBT-, disability-, and veteran-owned businesses into the Billion Dollar Roundtable reflects the national best practice in supplier diversity of including all communities at the table of opportunity," said NGLCC Co-Founder & President Justin Nelson. "In the United States, LGBT-owned businesses are creating tens of thousands of jobs, and adding over $1.7 trillion to the economy, much of that due to inclusion in corporate supply chains. We're proud to see our businesses included in the criteria that rewards corporate excellence in creating new opportunities for diverse-owned businesses to thrive."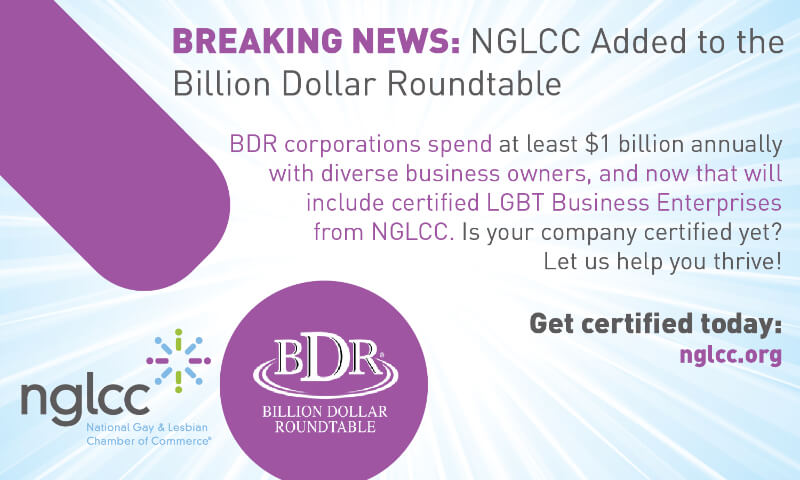 To date, the Billion Dollar Roundtable reports at least $72 billion in spend with diverse-owned businesses. That number is expected to continue climbing as corporations are encouraged and incentivized to work with LGBT-, disability-, and veteran-owned firms.
The Billion Dollar Roundtable was created in 2001 to recognize and celebrate corporations that achieved spending of at least $1 billion with diverse suppliers. The BDR promotes and shares best practices in supply chain diversity excellence through the production of white papers, thought leadership, and annual meetings. The group encourages corporate entities to continue growing their supplier diversity programs by increasing commitment and spending levels each year.
"In a country where one in five Americans has a disability, corporations are realizing the importance of disability inclusion across the enterprise," said Jill Houghton, President and CEO of USBLN. "People with disabilities are nearly twice as likely to be self-employed as people without disabilities, and nearly one in 10 small businesses nationwide are veteran-owned. The inclusion of disability- and LGBT-owned businesses presents more opportunities for diversity in the Billion Dollar Roundtable, and will lead to more economic opportunity for people with disabilities."
The National Gay & Lesbian Chamber of Commerce is the business voice of the LGBT community and is the largest global not-for-profit advocacy organization specifically dedicated to expanding economic opportunities and advancements for LGBT people. NGLCC is the exclusive certification body for LGBT-owned businesses. www.nglcc.org @nglcc